Advantages of Buying Cabinets from a Kitchen and Bath Specialist
By Tim Weaver, Kitchen Designer/Sales Consultant, Swartz Kitchens & Baths
Even when you do everything right with planning and purchasing a new kitchen, the unexpected can happen. In these moments you will recognize the value that decades of experience can bring.
We often hear about customers' experience buying cabinets in big box stores or via discount online retailers. But when the wrong piece is delivered, there's a flaw in the material or a hinge breaks unexpectedly a year down the road, who is going to be there to take care of it?
At Swartz Kitchens & Baths, we stand behind our design services, the products that we offer and our manufacturers' warranties. If there is a problem, our service technician will be there to fix it—quickly!!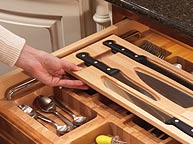 A preventive approach to product selection
We head off a lot of problems by carefully choosing the products that we sell. We rigorously examine each product to assure that it meets our high standards for quality, cost-competitiveness and accountability. We visit the manufacturers to see their operation and establish personal relationships with company leadership. That's insurance that they will go the extra mile to make sure our customers are satisfied.
When design goes on the line
Our talented in-house design team also helps us prevent and solve problems. They work closely with your remodeler or home builder to assure a smooth installation, and their years of experience with measurements and design have taught them what questions to ask in advance (how many times has this floor been redone? is there ductwork behind this wall?) to avoid job-stopping surprises down the road.
Special delivery or else
Your products arrive on site in the careful hands of our experienced delivery team to assure that nothing is damaged. In the rare event that there's a problem, a replacement is ordered immediately to keep your project on schedule.
Sometimes the unexpected happens further down the line — for example when the new puppy decides to chew on your discontinued cabinet door. Fortunately, many of our sales team members have decades of experience. They have seen lines of cabinetry evolve and change. They know when substitutions can be made, when pieces can be moved around and when (and which) custom cabinetmaker may need to fix an older damaged piece.
Practically seeing through walls
Our sales team can also head off potential hidden problems. With years of experience, many have insight to the particular design styles of area builders. When you mention the development your home is in, you might hear them mention some extra steps your contractor may need to take to reroute the plumbing. That's good to know before the drywall comes down.
Experience like ours doesn't come in a box. It's nurtured over the years in a family-friendly environment where sales team members, designers and delivery staff blossom and excel at doing one thing—creating fabulous quality kitchens for you.
Read more tips from our experts here.