Balancing Kitchen Lighting: Task Versus Accent Lighting
By Tim Weaver
Kitchen lighting is a crucial component of good kitchen design. Well-placed lighting can help set a mood, draw attention to special features and help you with cooking and serving tasks. Make sure you account for ample lighting in your kitchen budget.
In the timeline of a kitchen design, your lighting plan comes after the kitchen layout is determined. Consider taking your design to a lighting expert who can help you think through your needs and the many available options that can complement your style and material choices.
With today's larger kitchens, you can't count on just one light for proper illumination. Think about lighting in layers to plan for what you may need. Even a smaller kitchen becomes more dazzling in the glow of a variety of lighting types. Here are the basics: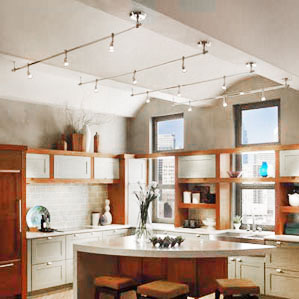 Task Lighting
Task lights are placed between eye level and the countertops. Insets under wall cabinets are a perfect place to tuck task lights. The newest type of under cabinet lighting is an LED strip light. They can come in a pure white light or a warm light, and can also be used with a dimmer. While a little more expensive than halogen, LED lights emit almost no heat and last for a very long time.
Recessed can lights in the ceiling handle some of the heavy task lighting. They should be centered on the ceiling between the edge of the countertop and the fronts of the wall cabinets to assure that you are not working in your own shadow. These powerful lights can help showcase your new cabinetry and can be placed above the sink and over islands; they are also nice to put on a dimmer.
A more stylized look can be achieved using pendant lighting over an island, long countertop or sink. These are fixed to the ceiling but drop down about 24 inches above the surface to cast light directly below. Estimate one pendant per four-foot length of countertop or other surface. Track lighting is another popular choice for over-counter task lighting.
Accent Lighting
Just about any feature you'd like to highlight in your kitchen can be enhanced with creative lighting. Strip lighting, or a Puck light inserted into a glass cabinet, can illuminate your favorite collectables.
We've seen clients use a wash of light on a metal backsplash behind a stove or the underside of an island countertop to create an evening glow. Dupont has come out with a translucent Corian that can be illuminated from behind to create a contemporary atmosphere. Today's lighting options provide endless opportunities.
Another popular area for accent lighting is the space between the cabinet tops and the ceiling. Rope lights are an inexpensive way to accomplish this look, just be sure to build a switch for these lights into your plan. For ambience toe-kick lighting can be added.
If your budget doesn't allow for all types of lighting now, consider including the necessary switches and a transformer for strip lighting during construction. You can add the fixtures you want later.
For a kitchen that shines in every light, visit a Swartz Kitchens and Baths showroom and talk to our knowledgeable, experienced kitchen design consultants. Let us put our expertise to work for you!