The Best Kitchen Countertop Material Options
There are few surfaces in your home that work harder than your kitchen countertop. Even if your cooking style is more take-out than gourmet, your kitchen countertop material will be home to keys, bags, plates, sharp knives, limes and lemons, cleaning chemicals, and other potentially corrosive or damaging substances. These kitchen countertop options are durable and beautiful choices for active homes.
Quartz and Quartzite
Quartz and quartzite are the latest rage in kitchen countertops and it's easy to see why. They are made from natural stone, come in a huge range of colors and styles that resemble marble, and are astonishingly durable. They are also heat resistant and impervious to chemicals, which means you won't have to worry that your limes are burning a hole through your top. The downside is the expense, but with what you'll save on replacement and sealing, you can make margaritas (with extra lime) for everyone!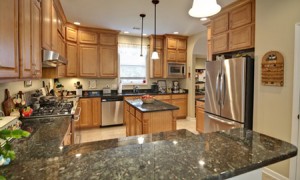 Granite
Granite is the most sought-after countertop material in the industry. Unlike quartzite, which is processed to achieve its distinctive appearance, granite comes from a slab. Each variety can differ significantly from the sample, so choosing your own slab prior to template is wise. Granite is strong, heat-resistant, nearly impervious to scratching and stains, and exceptionally beautiful. Granite does require periodic sealing, but it's an easy process. You should only have to do it once a year.
Marble
Is marble beautiful? Yes. Is it a classic material loved by all? Yes. Is it perfect for your kitchen? It depends. Are you obsessed with wiping up spills the moment they appear? Can you live with the odd nick or stain? Do you enjoy making pastry and pie crust? Is there no other surface that will satisfy your aesthetic needs? If the answers to these questions are yes, then marble is the countertop surface for you.
Laminate
Laminate comes in a wide range of colors and patterns, many of which mimic the appearance of stone. Laminate, which is made from plastic and particleboard or plywood, is also the most cost-effective countertop surfaces. It's easy to clean, and somewhat resistant to staining and scratches. However, damage is often irreparable with laminate.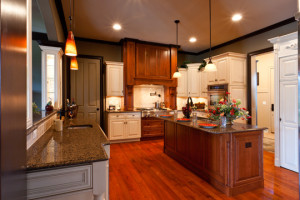 Other Countertop Options
If stone, cultured stone and laminate aren't appealing, you can always consider trying something different. Copper countertops are exceptionally beautiful, but keep in mind that its appearance will change over time. Stainless steel is terrific if you're planning a commercial-style kitchen, but remember that "stainless" does not mean durable.
Wood countertops are exceptionally beautiful, but they are also high-maintenance and extremely costly. Concrete is an interesting surface that can be dyed and formed to suit your precise needs, but you may have trouble finding a contractor. It has not gained the popularity of the other choices.
For the best results, consult one of our kitchen designers at Swartz Kitchens & Baths. We'll help you find the surface that best meets your needs.