Countertops 101: A Primer on Countertop Choices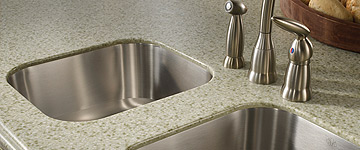 There are several different countertop choices – how do you choose the right one for your space? Both workhorse and beauty queen, your countertop is always on display providing a place for cutting, mixing, setting down hot foods, serving and even spilling.
We're finding that many customers want to splurge on high-end countertops. But even if you're on a strict budget, there are many innovative and affordable materials to meet your unique design, purpose and pricing needs. You may even want to mix and match! We'll have more about that and whether you can find a "stain-proof" surface in Part II of this article.
Here's an overview of some popular choices:
Granite: It's powerful, elegant look adds beauty to any kitchen, and there are so many color choices! Granite can handle the heat, is long-lasting and resists scratches. You can eliminate the need to regularly seal this naturally porous surface by ordering a granite shield from your fabricator before it's installed. One of the most expensive choices, granite can crack with improper installation.

Local, plentiful varieties of granite are the most affordable. Choose Grade A surfaces only. Lower grade granites may be more porous or have imperfections that can lead to breaks. Because each piece is unique, choose a fabricator within driving distance so you can personally select the piece for your countertops.
Quartz: Strong and beautiful, these engineered stone countertops are comprised of 93 percent quartz particles and come in a variety of colors with consistent patterns. Some manufacturers are innovating to create a high demand product that resembles granite and marble. Quartz-based surfaces are as hard as granite, are easy to care for, resist bacteria and mold, and are non-porous so they don't need to be sealed. Prices are moderate to high-end.
Solid Surface: These acrylic-based products, such as Corian, now come in a beautiful array of colors including some that resemble granite, glass or other stones. The seamless surface is non-porous and easy to clean. Surface scratches and stains can be buffed out of this moderately expensive product, and you can opt for an integrated sink for easy cleanup. Heat and severe staining can damage.
Laminate: This inexpensive countertop has come a long way with much greater durability and an array of colors and textures including some that look like granite and marble. Made of plastic-coated synthetics, these surfaces are smooth and easy to clean and maintain, but they can scratch and stain.
More varieties: Glass, concrete, stainless steel and green product countertops are growing in popularity. The jury is out on the durability of many of these products, but they can add a unique texture and detail to your kitchen at a variety of price points.
To discuss your countertop options, visit our showroom and talk to our knowledgeable, experienced kitchen design consultants who can help you with detailed product information.
Have a project in mind? Complete this form to be contacted by our design staff within five working days.