Don't Make These Bathroom Remodeling Mistakes
Today's bathrooms are more than functional spaces. Your new bathroom should be as comfortable and spacious as possible, and it should have adequate storage and plenty of ventilation. Avoid common bathroom remodeling mistakes and improve your return on investment with a little extra planning.
Ventilation Matters
The bathroom is the place in your home where adequate ventilation is a must-have. Does your bathroom have an exterior wall? Replace or add a new window, but also install a vent so you can stay warm on chilly days. Vents also give the occupant a greater sense of privacy — that's especially important if your bathroom is a downstairs powder room.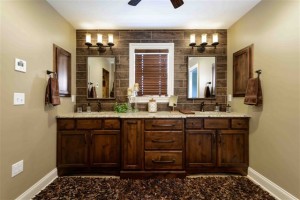 Hide the Toilet
Plan to keep the toilet out of view when the doorway is open. If your bathroom has enough space, consider creating a separate toilet stall with its own ventilation system or window. This is especially comfortable in the master bathroom, where the owners are likely to spend quite a bit of time in the bathroom at the same time.
Get the Lighting Right
If you've ever put makeup on and then wondered why you spent the day looking like a clown, poor lighting is likely the answer. Window location makes a big difference, so work with a design professional before making a big bathroom renovation mistake that will be difficult and expensive to fix.
Do You Really Need a Tub?
Master bathrooms often feature a big jetted tub that takes up tons of space and is rarely used. A big shower might be a better choice for you, but think carefully before you proceed — not having a tub could affect your home's resale value. If you're planning to stay in your home for several more years and have no plans to move, a big shower could be just the ticket. If you opt for the tub, make sure it can fit through your entryways and doors.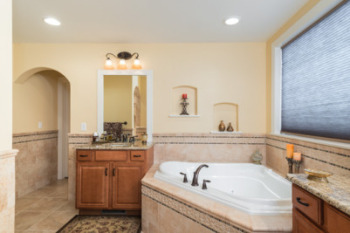 The Upstairs Laundry
Wouldn't it be nice to avoid hauling endless loads of laundry up and down the stairs? Finding space for a laundry room upstairs will save you aggravation while adding intrinsic value to your home. The point is, think outside the box especially if you're doing a gut renovation. You'll have the most flexibility and a plumber is on the clock anyway.
Not Enough Storage
Think about all the things you need in the bathroom: shampoo and conditioner, hand and body soaps, toothbrushes and toothpaste, razors, lotions, washcloths, skin care and makeup products, a hair dryer, towels, bath mats…the list goes on. Make sure you have plenty of storage space available to store these items, or you'll have a hallway linen closet that's overflowing with stuff you use regularly.
Don't DIY
How hard can laying tile be? The first time you try it for yourself, you'll realize how difficult it is. Don't be a hero. Avoid making major bathroom remodel mistakes and consult a professional at Swartz Kitchens & Baths instead, before you have subway tile that looks like it's sliding downhill.