Choosing a Kitchen and Bath Subcontractor Partner for Residential Development
When choosing a residential construction kitchen and bath subcontractor for your major residential construction projects in Pennsylvania, select a partner worthy of a long-term relationship.
Residential development projects can span months or even years. A specialized contractor who has effectively managed residential construction projects in the past can serve you well, especially if they have a reputation for quality and a well-rounded project portfolio.
Choose Residential Construction Subcontractors by Reputation and Experience
To lay the proper groundwork for a long-term partnership, you want to look for a match in specialization on the following levels:
Residential versus Commercial Construction: The licensing and registration requirements for these construction categories differ in Pennsylvania, as do the needs of these customer types. A qualified residential subcontractor knows how to effectively manage this type of customer as well as follow residential code requirements.
Renovation versus Remodel versus New Construction: A match in expertise to the specific construction project ensures a partnership that establishes a reputation for beautifully designed, well-built rooms and homes. Before you choose, know whether the subcontracting partner you're considering does work in one, two or all three, depending on your need.
Kitchen- and bath- specific Knowledge and Experience: Code, permit and inspection requirements for the most complex residential room types demand a specialty subcontractor with a reputation for effective construction management and rooms built for safety, beautiful design and functionality.
For your bottom line, your choice of subcontractor should align with the quality of design and function envisioned. The right match results in happy customers who get what they wanted and paid for on time, on budget and to local code.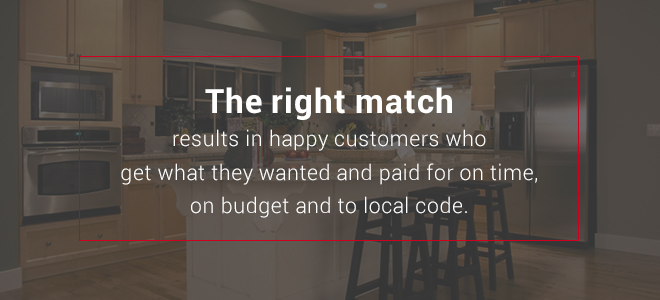 Subcontractors known for effective project management minimize waste and optimize the profit margin for both the main contractor and themselves — which means they look for ways to bring value to your partnership. Above all, choosing the right residential construction subcontractor as your partner lays the groundwork for major projects done right, repeat business, referral business and long-term success based on mutual trust.
Why Partnering With the Right Residential Subcontractor Is so Important
Subcontractors who specialize in kitchen and bath effectively manage the complex components of a major residential construction project. They have the experience and knowledge required to support your project's vision while working within demanding timeframe and budget restrictions
Especially for major projects like a development of single-family homes offering custom features, partnering with a reputable, experienced sub can bring great rewards. The right partnership maximizes your rewards, whether in the form of customer satisfaction, optimized profit margin, new business, or recognition among peers in the trade.
Specialty contractors have established their expertise in building to codes and standards for electrical, plumbing, storage, lighting, heating, cooling and durability requirements specific to these built environments. Experienced subcontractors will have working knowledge of local adoption of Uniform Construction Code (UCC), and will incorporate this knowledge into their services.
Residential Construction in Pennsylvania Is Locally Based and Licensed
While Pennsylvania does not require licensing for commercial contractors, all contractors doing residential work, classified as home improvement here, must register with the State Attorney General to be licensed under the Home Improvement Consumer Protection Act (HICPA).

Does the subcontractor you're considering know local and state residential building code and the agencies responsible for enforcement? Does the sub hold required risk protection in the form of insurance? As part of business and on-the-job practices, does the subcontractor comply with UCC and local compliance to financial, labor, occupational safety and construction codes?
Getting answers to these questions before signing an agreement with the subcontractor could prevent costly events that could tarnish your reputation.
In 2009, Pennsylvania instituted HICPA registration measures to protect against shoddy or unfinished work, theft by unethical individuals posing as contractors, and to protect workers from injury and unfair business practices. Before that time, complaints about contractors from outside of the county in which their service was contracted or in which they were building — or outside of the state — had reached an unacceptable level.
Residential subcontractors with solid reputations will also have reliable sources for materials within the state or region. What kinds of products does the subcontractor really know? For the products most often specified in your residential construction projects, does the subcontractor offer the selection needed and the supplier network to deliver the quantities needed?
Simplify Your Subcontractor Reputation Research
You can easily explore a subcontractor's reputation with their subcontractors and suppliers by asking for and calling local references. For subcontractors that specialize in kitchen and baths, you'll especially want to learn how your prospective partner works with plumbers, electricians, cabinet installers, carpenters and countertop specialists — and the permitting process representatives.
Ask your prospective residential subcontract partner how their design adheres to building code as well as the customer's need for function and beauty in their living environment. Does the subcontractor have a reputation for writing and calling in clear specifications? Are they known to pay suppliers on-time and as agreed? Experience and references are easier to verify with a subcontractor that's local to your planned site.
Subcontractors that have completed major residential construction projects in the Pennsylvania county or region where you're planning to develop make easy work for seeing their completed projects. Not only do visits to these sites provide a chance to ask questions of prime contractors with whom they've partnered before, but you can also evaluate the quality of the sub's work and final product.
Primes from previous projects can also provide insight into whether the subcontractor had challenges with specific suppliers in terms of product availability, quantity, delivery dates or pricing.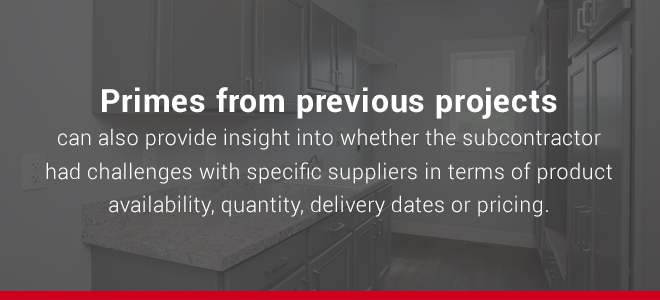 Choosing a local contractor by reputation can go a long way to ensure you avoid costly mishaps with residential subcontractors who were not right for the specialized requirements of the project, especially if it's a kitchen or bath project. Look at the sub's history for paying their own subcontractors, lest you put your company's reputation on the line when your subcontractor does not pay its workers or is responsible for more serious defects in construction.
Effective Scheduling, Material and Labor Management for Residential Construction Projects
A reputation for management of the following in terms of supplies, labor and time offers a high indication that the subcontractor you're considering will make a good partner:
Budget: The subcontractor can draw readily from its knowledge of supplier, product and contractor pricing to stay within budget, yet achieve the look wanted.
Estimates meet the main contractor's and customer's expectations: When the subcontractor provides you with pricing, it falls within comparable cost estimates for similar work. No surprises.
Customer service: A design and technical services component helps customers make decisions easily and changes early. It can also prevent costs from late changes and boost reputation.
One-stop-shop for the main contractor and customer: When you can find a subcontractor who provides design, supply and build services, you and the customer need only one contact for questions and updates.
Experience with contractor-subcontractor relationships: Starting a major project with a partner that knows the basic protocols and has established processes makes the work go smoothly.
You'll also want to look for subcontractors with previous experience in starting and closing major projects in your state. Reputable subcontractors in Pennsylvania should know the opportunities within the state and have networks through government and residential construction associations, including Planning and Codes Bureaus and Builders Association of Central Pennsylvania.

What to Look for in a Residential Subcontractor Partner Experience
The following checklists offer basic questions to ask and criteria to consider when choosing a residential subcontractor by reputation. While a subcontractor 's website and advertisements provide some information to answer these questions, major projects and long-term partnership call for thorough review.
In the Showroom
Does your subcontractor have a showroom where you can review the quality of their products and finished work? Here are key questions to ask when you visit the showroom:
Do they offer design as part of the service? Ask them to describe what they offer in terms of consultation, including computer-aided design (CAD).
Can they buy the products — cabinets, countertops, etc. — for you? Look for product lines they carry and samples.
What range in quality of materials and craftsmanship does the subcontractor offer?
Do they offer a network of reliable, reputable, preferred contractors? Ask for examples of finished projects and number and type of subcontractors contracted.
Do they make a clearly stated agreement in writing before they begin work? Ask to see a sample.
Do customer service and sales representatives follow-up with customer inquiries and show patience with the customer?
What is their Guarantee policy for their work and materials? Ask to see the policy in writing.
Can they direct you to reference work in residences that you can visit or tour on the web?
Is their current license number displayed, a requirement of PA HICPA? Ask for the number and do a search on the Attorney General Home Improvement Contractor web site.
On the Job
What kinds of quality trade practices, safety practices and code protections can you see at work? Here are things to observe at a work site:
Effective management of time, labor and materials may be visible in supply deliveries, interaction with workers on site and work permits posted.
Effective management of the subcontractor's part of the procurement process, invoicing and payment may be apparent in project timelines, worker satisfaction, delivery or non-delivery of supplies.
Technical knowledge and abilities of both the subcontractor and its subcontractors can be revealed by finished work.
Posted necessary permits show they protect against risk in the partnership.
Quality of work activity observed can indicate compliance to UCC and local code, craftsmanship and visual aesthetic.
Quality of product on site matches with showroom product or samples in beauty, consistency, durability and requested sustainable materials.
Budget discipline shows in the way workers spend their time and project money in the form of supplies and materials.
Estimating skill and accuracy shows in deliverable dates met and absence of supply shortages or overages.
Customer service is delivered with a consultative, responsive and responsible approach.
In Your Region
In the Central Pennsylvania Region, including Harrisburg, Allentown, Lancaster and York, you'll want to "talk to the locals" to learn as much as possible about the subcontractor's reputation with residential project stakeholders.
Look for:
Satisfied customers who rehire and make referrals,
Confident suppliers that extend credit and go out of their way to deliver,
Subcontractors eager to partner on future projects,
Main contractors that partner again on major residential construction projects,
A length of company service that indicates continued customer satisfaction and community support, and
Experience with and recommendations from major residential construction projects in Pennsylvania.
When you're looking to partner within a specific region or county, seek out a subcontractor that can show how their local knowledge has eased the effective management of major residential projects.
A subcontractor with experience can tell what their years of company service represent in terms of their reputation for knowledge of the community, the built environment, and unique residential properties or districts, such as those that need updates to meet code or have extended requirements.
Insurance for Residential Construction Projects
Insurance protects both the subcontractor's business, your business and workers from theft, damage, on-the-job injuries and legal problems. Be direct in asking to see licenses, permits and surety bonds.
A subcontractor that can talk to you about UCC and local code compliance indicates they think about protection against risk as part of a responsible partnership. Ask about their Residential Construction Insurance for fall protection and Worker's Compensation Insurance, which are required by Pennsylvania. Do a search on the contractor's business at the Pennsylvania Attorney General Home Improvement Contractor registration list to ensure current licensing. Ask whether their product and work can meet International Code Council per 2003, 2006, 2009 codes.
Documented Customer Satisfaction
While you should interview references, take time to review customer testimonials your prospective subcontractor may have on a website or other communications. They may have a file of reference letters with photos or reference sites where you can inspect their finished work.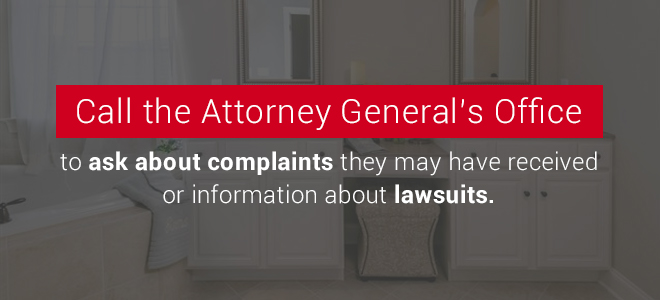 Call the Attorney General's Office to ask about complaints they may have received or information about lawsuits. You might only find no complaints are filed, which is good news. Finally, check the Better Business Bureau for complaints or satisfaction ratings.
Envision what an ongoing partnership and long-term success based on mutual trust looks like for your major residential construction projects. What you learn about the longevity of your prospective partner's working relationships with prime contractors and subcontractors should inform your decision about a partner you can trust for the long haul.
Find a partner whose previous work with the subcontractor -contractor relationship in procurement and service delivery yielded results that you, as a prime residential contractor, want to see on every project — a smooth experience with the client and repeat project partnerships. Reliable partners are those that have developed mutually respectful relationships with suppliers and specialty subcontractors, and often have a history of community involvement and investment.
Finally, look for the subcontractor's memberships in major residential construction and subcontractor industry or professional associations, including the National Association of Homebuilders and Pennsylvania state, regional and county associations.
Consider Swartz Kitchens & Baths for Kitchen and Bath Design in Central Pennsylvania
Knowing your subcontractors have a history of solid kitchen and bathroom design and partnerships with local associations are ways you know you've chosen a reliable partner. For over three generations, we've taken pride in doing just that. Let us work with you and show you how we can deliver. Contact us at 717-652-7111 or reach out to us online.