How to Budget for a Kitchen Redesign
You've decided to redesign your kitchen, and you've set a price limit within your budget. But after looking at all the costs associated with professional kitchen remodeling, you're not even sure you can afford to look at a new appliance, much less renovate an entire kitchen! After all, the average kitchen renovations cost between $25,000 and $50,000.
Even the most careful homeowners can spend far more than they planned on kitchen remodeling. But fortunately, cutting costs on a kitchen redesign doesn't have to be too much of a challenge, and you don't need to spend a fortune to have a kitchen that looks amazing. You can take simple steps throughout the renovation process to lower your overall costs without compromising the beauty and quality of your kitchen. Here are some of the best strategic choices you can make for your kitchen makeover to cut costs, while still enjoying the kitchen of your dreams.
Cutting Costs Without Cutting Corners on Your Kitchen Redesign
You can reduce the expense of your kitchen remodel even before renovation begins or in the early stages of redesigning. Use the following tips to start your kitchen redesign off on the right foot.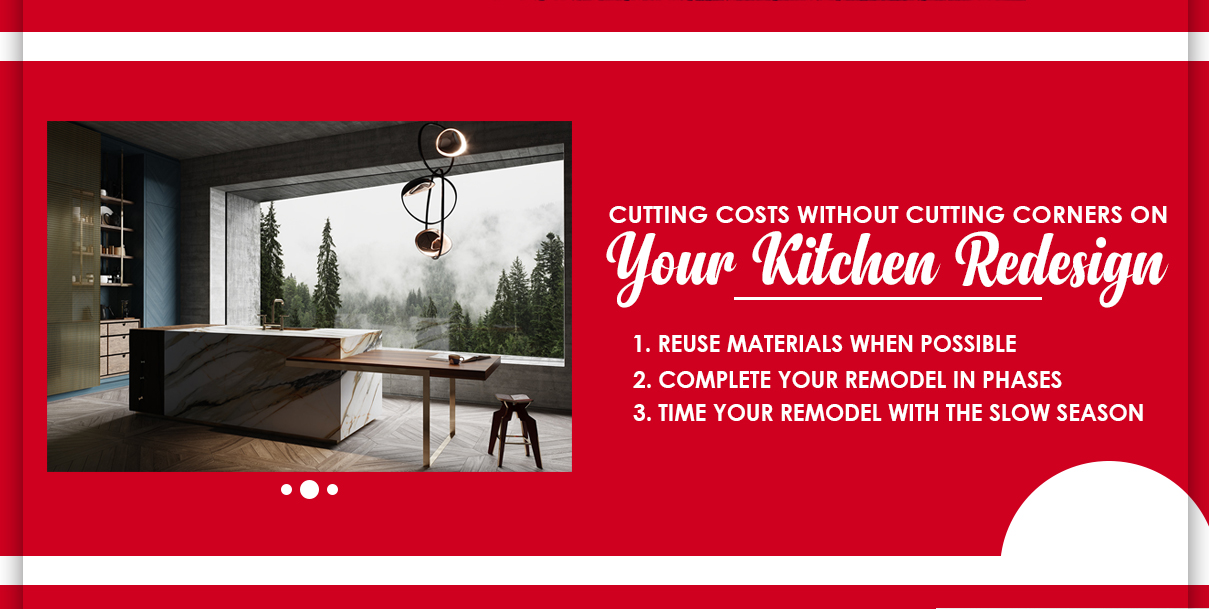 1. Reuse Materials When Possible
Reusing and restoring old materials whenever possible can provide significant savings over buying new. For example, maybe you're dreaming about new cabinets, but you can't afford the hefty price tag that often comes with custom or semi-custom cabinetry. By merely reusing and renovating your existing cupboards, you could save the hundreds or even thousands of dollars associated with high-end custom designs.
New cabinets and other furniture can be a wise investment, but if you can't afford to install new models, you can restore your current cabinets, chairs and other furniture on your own or with the help of your contractor. Repaint, reface or refinish surfaces and then install smaller additional features such as molding or undercabinet lighting to make the most out of reusable current materials.
2. Complete Your Remodel in Phases
It's OK if your budget won't let you do everything at once. While it can be enjoyable to perform a complete kitchen makeover and watch your kitchen drastically transform before your eyes, sometimes it's more economical to take one step at a time when planning and executing a kitchen redesign.
Many homeowners pick one or two times each year to check a renovation task off their to-do list. You could schedule projects around paydays, bonus checks or other times of year when you have more time and money than usual to spend on a kitchen update.
3. Time Your Remodel With the Slow Season
With more time and energy to spend at home and a fresh tax refund in hand, you may think spring and early summer are the best times of year to have your kitchen remodeled. But May through September is the busiest time of year for remodeling contractors, and their rates often reflect the high demand of peak remodeling season.
Contractors in their off-season typically offer significant discounts to get your business. You could save as much as 5 percent on your total remodeling costs by merely choosing to wait until after the new year to perform renovations.
Choosing the Right Materials
Once you've started your kitchen redesign, you'll soon need to select the type of materials you want for features, such as counters, cabinets, floors and backsplashes. The materials and brands you choose could have a drastic effect on your overall bill, so here are some tips to consider as you find the best-value materials for your kitchen redesign.
1. Find Alternatives for Expensive Materials
Stone countertops and stainless steel appliances will last for years to come and can significantly add to your kitchen's aesthetic appeal, but these materials can soon bust nearly any budget if you aren't careful.
Marble and granite countertops are gorgeous — not to mention resistant to moisture, scratches and heat — so you might not want to avoid them altogether. If you love the look of granite or marble, but can't afford the hefty price tag, consider only using it for a high-traffic section of the counter or visually appealing kitchen island and then using a more affordable alternative such as laminate for other areas.
Likewise, stainless steel offers a sleek, modern aesthetic many homeowners don't want to pass up on. But near-record stainless steel prices may put it out of reach for those with smaller budgets. Get the look of stainless steel without the hefty price tag by choosing increasingly popular faux stainless steel appliances.
2. Avoid Top-of-the-Line Brands
Have you ever wondered why some countertops, cabinets and appliances are hundreds of dollars more expensive than others made out of the same material? Often, the only noticeable difference is in the brand name.
Functional brands and effective materials allow you to enjoy beautiful, durable kitchen products, while remaining within your budget. Designers typically work with numerous brands ranging in prices so they can accommodate nearly any budgetary need. Do your homework before deciding on the right material for your project to find a brand with the perfect combination of quality and cost-effectiveness.
3. Shop Around for Discounted Prices
Discounts and closeout items allow you to save money while still enjoying your favorite materials and high-end brands. You can find some of the most beautiful and durable materials and appliances in the discount area of a showroom at far more accessible prices than regular products.
Not only can you shop around for bargains on countertops, cupboards and other large appliances, but you can also enjoy substantial discounts on kitchen accessories to add the perfect final touch to your new kitchen. Some of the best finishing touches — such as beautiful flatware, dishes, kettles, tables, chairs and other kitchen accessories — are available at your nearest thrift store, neighborhood yard sale or the discount bin at your local retail outlet for far cheaper than what you'd find at a designer kitchen supply store.
Working Within the Existing Space
Adding on square feet to your kitchen will significantly increase the expense of any kitchen renovation project. Use the following tips to work within your existing kitchen space and avoid knocking down walls or building an addition.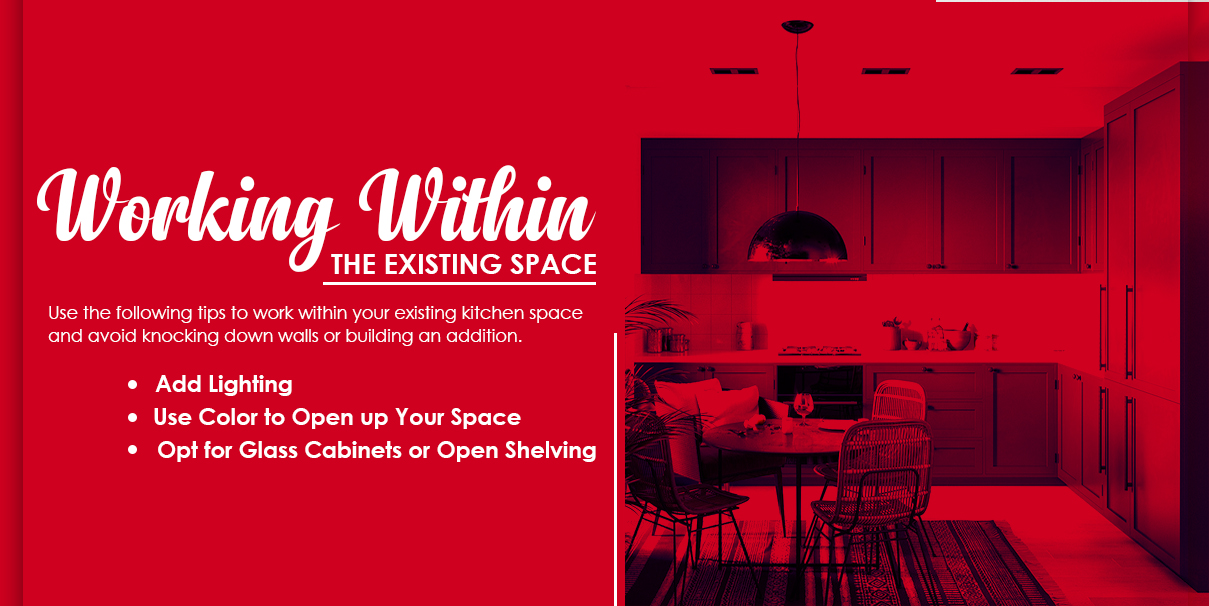 1. Add Lighting
Adding lighting to your kitchen may seem like almost too simple of a solution to maximizing the appeal of your existing space. But experts recommend strategically placed lighting to brighten your kitchen and make any sized room more visually appealing.
Don't settle for one large, glaring light hanging from the middle of your kitchen ceiling. Instead, combine different types of lighting in key locations, like underneath cupboards, over islands and inside glass cabinets, such as in this well-lit kitchen. Apart from recessed lighting, most types of kitchen lighting are inexpensive to install, making them ideal for people on a budget who are looking to make their kitchen a more open, inviting space.
2. Use Color to Open up Your Space
Color can both physically extend the look of an area and emotionally warm a room, making it a vital feature in any kitchen. And best of all, it's far less expensive to add color than it is to physically open up the room by tearing down walls or adding square footage.
Almost any hue will work to brighten both small and large kitchens, but consistency is key. Consider the mood you want your kitchen to radiate, and pick two or three shades that will best work together to reach your goal. For example, the cool, earthy tones of this kitchen extend the space and add a subtle contrast between surfaces, while the grays and reds of this kitchen create a more intimate environment.
3. Opt for Glass Cabinets or Open Shelving
Many homeowners tear down their walls to add walk-in pantry space to smaller kitchens, since too much cabinetry can be overwhelming in a small area. But there are less expensive ways to add eye-pleasing storage options to a small space.
Open shelving is an excellent, affordable storage alternative if you can't afford to install a new walk-in pantry. Open shelves provide a clean, modern look you can customize to fit nearly any kitchen aesthetic. Likewise, glass cabinetry can add elegance to your kitchen while visually opening your space. A combination of traditional cabinetry, open shelving and glass cabinets, such as in this example, add airiness and elegance to your kitchen without requiring expensive additional square footage.
Choosing Simple, Reliable Appliances
Fancy high-dollar kitchen appliances look impressive in the showroom, but they're significantly more expensive than simpler, reliable models. If you're not a professional chef, you probably don't need all the bells and whistles of top-dollar appliances. Instead, look for features that will save you money during your purchase, as well as down the road through increased efficiency and reliability. The best appliances for your kitchen redesign should have the following features.
1. Energy Efficiency
Energy efficiency is one of the most important things to look for in your kitchen products. As a hot topic in product manufacturing, companies are introducing energy-efficient models of both high-end and low-priced appliances. Purchasing inexpensive products with increased energy efficiency saves you money, both during your purchase and on future energy bills. Especially look for dishwashers and refrigerators that have earned government-backed Energy Star ratings.
2. Safety Features
You don't need the fanciest stove or range hood to ensure kitchen safety. Look for inexpensive safety solutions such as conventional stovetop models with controls at the front or sides — not between burners — and knobs that are high enough out of children's reach.
Both upscale and conventional models of ovens, hoods and other appliances come with numerous added safety features. Do your research before your purchase to ensure your kitchen will be safe for all members of your household, while still staying within your appliances budget.
3. Burner Heater Output
It's easy to get carried away when looking for the perfect stove for your renovated kitchen. Some high-end burners can put out 12,000 BTU or more, but unless you cook for a living, you most likely don't need to spend extra money on such a powerful burner. A standard stove — which features an average of 7,000 BTU per burner — should be perfectly fine for most home applications.
Working With a Contractor Who Gets It Done Right the First Time
When you're on a budget, you may be tempted to look for the cheapest contractor possible. But if you don't choose a contractor who takes the time to understand your vision and get the job done right, you'll likely be facing expensive future repairs and professional remodeling services that will far exceed your original budget. Here are some tips for choosing the right contractor the first time around.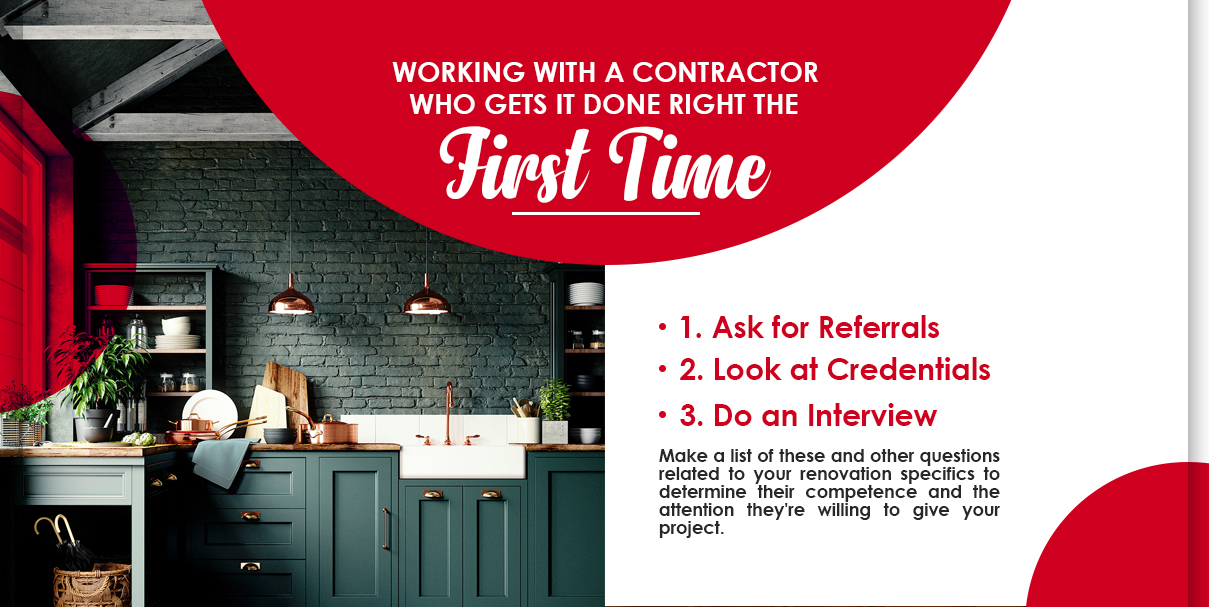 1. Ask for Referrals
Good contractors usually get jobs based on a good reputation, and word of mouth is perhaps the best way to find reputable professionals. As you begin your contractor search, ask friends and family if they've had any similar kitchen work done in the past, and who they chose as a contractor. Ask them questions such as:
What were the contractor's work habits? Did they consistently show up on time?
Did they perform renovations as outlined in the contract without issue?
Did your project stay within your budget?
Did anything go wrong? If so, how did they solve the problem?
Once you narrow down your list of potential contractors, obtain a list of references and ask them these questions as well.
2. Look at Credentials
State law requires all contractors performing residential home improvement work in Pennsylvania to register with the state attorney general under the Home Improvement Consumer Protection Act, and they must comply with state and local residential building codes. You can quickly search for a contractor's registration on the Pennsylvania Office of the Attorney General's website, and you should do your homework to find any other local requirements your contractor should fulfill. Do not trust anyone who is unregistered, uninsured or unfamiliar with local regulations to perform your kitchen renovations.
3. Do an Interview
Once you have a list of possible contractors, it's wise to make a quick appointment to ask questions related to your project, including:
Do they typically take on projects of your size?
Can they give you a list of references?
How many projects do they typically focus on at once?
How long have they been in the contracting business?
Make a list of these and other questions related to your renovation specifics to determine their competence and the attention they're willing to give your project.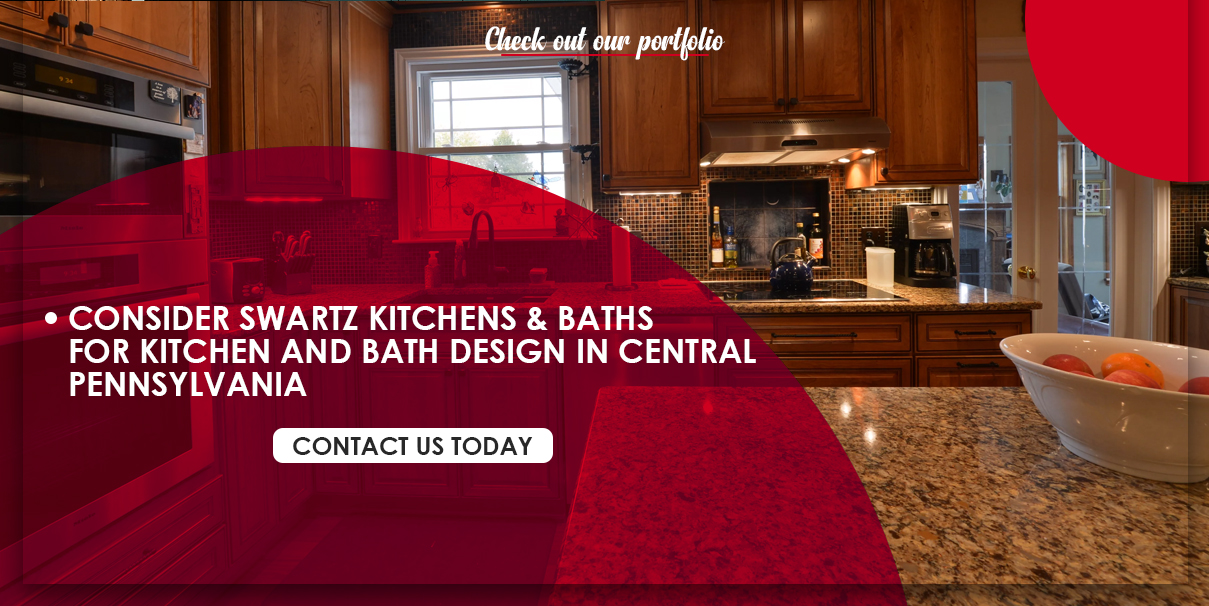 Consider Swartz Kitchens & Baths for Kitchen and Bath Design in Central Pennsylvania
Before you and your contractor start your kitchen renovation project, you'll need a designer who's willing to work with your budget to provide the kitchen design of your dreams. At Swartz Kitchens & Baths, we have more than three generations of experience working with homeowners and contractors to create the most beautiful, functional designs within unique budgetary needs and supplying the highest-quality kitchen products at affordable prices. We can also refer you to one of our preferred contractors to ensure the quality and beauty of your final project.
With convenient locations in Harrisburg, Allentown, Lancaster and York, we're the premier choice of homeowners and contractors throughout Pennsylvania. Check out our portfolio or visit one of our showrooms to view a sample of our high-quality kitchen projects, or contact us today to learn more.