Treating Countertop Stains and Searching for Stain-Proof Countertops
I recently wrote about the types of countertops and their qualities to help you hone in on surfaces that will meet your needs. But what do you do if you want to cover a stained countertop? And, if buying new, do truly stain-proof countertops exist?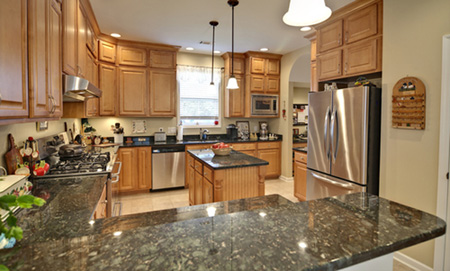 Ready for resale?
There are many beautiful, inexpensive options in the solid surface and laminate categories that you can purchase to replace worn, stained countertops to help your kitchen show nicely without a lot of elbow grease.
Review the overall scheme
If you're replacing countertops to update a kitchen that you intend to live with for a long time, consider splurging on a higher-end counter from the granite or quartz category for a striking change. Before you move forward, make sure you are happy with the layout of your kitchen and carefully inspect the condition of your cabinetry. Countertops last a very long time, and you don't want to invest on a beautiful top for a failing cabinet or a design that makes you crazy.
Don't be afraid to mix it up!
One budget-friendly idea is to use granite as a focal point and then use a complimentary laminate countertop around the edges of your kitchen. You can also mix surfaces to create work zones for specific tasks—an exotic butcher block placed close to an undermount sink for convenient food prep, stainless steel next to the stovetop or oven to take the heat or a small marble countertop, customized to the baker's height, for rolling out dough. Granite, quartz or laminates are good choices for areas where food will be served or displayed.
Is there a such a thing as stain-proof countertops?
Most countertop fabricators and manufacturers like to say their product is "non-porous" but they stop short of saying the product is stain-proof. Products like Hanstone, Silestone, Cambria and Zodiaq claim to be highly resistant to stains.
Marble, granite and other natural stones are porous, and when there are pores, stains can be absorbed. A high-grade stone is less porous. But in practice, you don't want to leave spills and foods on these surfaces for a long time. If staining occurs, you can often reverse the process by reabsorbing the stain into a different material called a poultice. This is a substance made with powdered whiting (sold at paint stores) and hydrogen peroxide or another chemical reducing agent (depending on the type of stain).
One homeowner unknowingly stained her granite when grease seeped out of her toaster oven for a long period of time. She applied a poultice to the spot, changing it several times, and within a week, the stain was completely removed.
Another option for granite is to purchase a granite shield that is applied by the fabricator. This not only eliminates the need to reseal the countertop regularly, but will also protect the surface from staining.
To find out more about countertops from our knowledgeable, experienced kitchen design consultants, visit one of our showrooms or request an appointment today!