Custom, Semi-Custom, or Stock Cabinetry? Which Type of Cabinetry is Right for You?
If you've decided to upgrade or renovate your kitchen, you'll need cabinetry. Cabinetry isn't an everyday purchase, and when you see the vast array of options available to you, you might be overwhelmed by the choices. Should you choose entry-level stock cabinetry or invest in completely custom cabinets? At Swartz Kitchens & Baths, we specialize in helping you select the right cabinetry that not only meets your budget, space constraints, and time frame, but also achieves your vision of functionality and style. To help you get started, we've outlined the three industry-standard cabinet types for both builders and homeowners.
Stock Cabinetry: Meet Your Basic Needs at an Economical Price
Stock cabinetry, also called entry-level cabinetry, is our best selling product.  This cabinetry is made in advance by cabinetry manufacturers according to predetermined specifications intended to fit industry-standard kitchens and baths. There is nothing wrong with stock cabinets; in fact, they are often well-constructed. Swartz Kitchens & Baths only partners with the highest quality stock cabinetry suppliers, which is just one of the reasons our customers choose us for stock cabinetry. (Other reasons included our expert sales team – all specialized in kitchen and bath design and our superior service from design to installation.)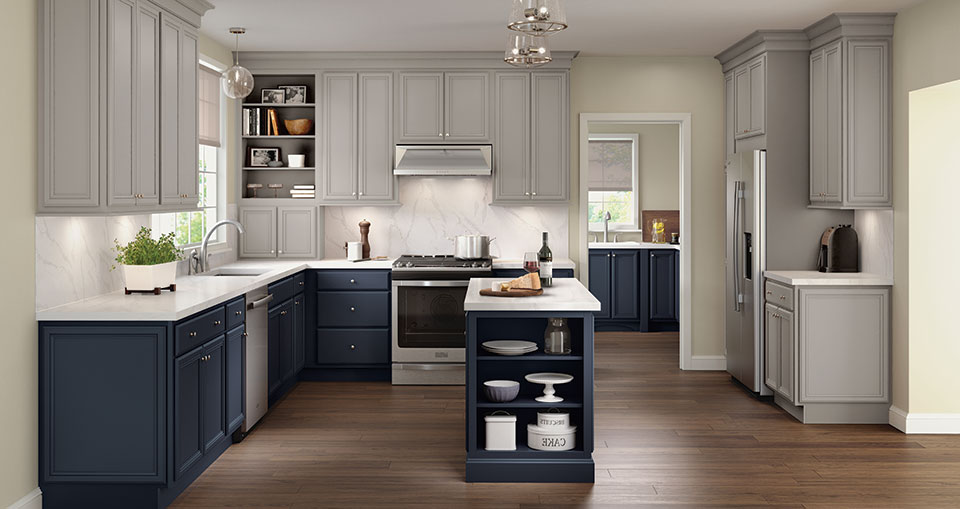 Stock cabinets are especially popular with builders constructing multi-family homes and apartments; those building or remodeling subdivision or rental homes; or homeowners looking to respect a certain budget. Choosing stock or entry-level cabinetry is convenient: there are fewer choices to be made, and, because these cabinets are pre-made, you can typically get faster delivery than with semi-custom and custom cabinetry. The tradeoff, however, is that you cannot get customizable features or dimensions—what you see is what you get. And, since these cabinets come in standard sizes and dimensions, they are not well-suited to unique or custom spaces.
For multi-family real estate developers and builders, Swartz recommends Grandview Cabinetry. This cabinetry company provides a curated line of quality American-made entry-level to stock cabinets at a great value. Grandview Cabinetry ships truck-load direct to building sites, which means it's not an option for residential homeowners outfitting a single kitchen.
If you're a contractor or a homeowner seeking entry-level stock cabinetry, consider Fabuwood, Legacy Cabinets, or Merillat Cabinetry. All three cabinetry manufacturers offer cabinet lines with entry-level pricing options, giving customers the advantages of both quality construction and affordability. Medallion Cabinetry starts its offerings at a mid-stock level and can also be a consideration for some customers shopping in this category.
Semi-Custom Cabinetry: Showcase Your Unique Style at a Reasonable Price
If you're looking for more than what entry-level and stock cabinetry can provide, Swartz Kitchens & Baths encourages you to peruse our semi-custom offerings.
Like its stock counterpart, a semi-custom cabinet begins with standard, predetermined elements. The similarities end there, however. Freedom abounds – in both design and functionality – when a designer helps you select semi-custom cabinets. Semi-custom lines offer many requested customizable elements from pull-out spice racks to built-in bookcases to customizable panels and storage solutions. Semi-custom cabinetry also offers aesthetic features like countertop supports, tapered legs, overlay fillers, valances, corbels, moldings, wood range hoods, open shelving, and more. These extra touches combine to create a truly one-of-a-kind kitchen.
We have partnered with the following cabinetry companies to provide our clients with the best craftsmanship and semi-custom options available on the market today. Each of the following manufacturers offers semi-custom cabinetry:
[/content_block]
Custom Cabinetry: Create a Signature Design at a Distinguished Price
Custom cabinetry is a hallmark of luxury homes and well-appointed kitchens. Premium custom cabinetry does not utilize prefabricated boxes. Everything is completely hand-crafted out of the materials of your choice according to the unique dimensions of your space. Want to use environmentally friendly bamboo or an exotic veneer? You're in the right place. Want to customize your kitchen island or create a cook's kitchen where every pot, pan, lid, cookie sheet, dish, and utensil has a dedicated space? Leave it to us. All of the semi-custom features apply to custom cabinetry as well. Homeowners who crave limitless design options for their custom projects work find it especially rewarding to work with cabinetry makers like Durasupreme and Shiloh. With custom kitchens and baths (often found in one-of-a-kind-million-dollar-and-up properties), comes the understanding that special orders require an extended time frame for production at significantly higher price points.
Swartz Kitchens & Baths truly has something for everyone – from stock cabinetry to semi-custom cabinetry to custom cabinetry. We have carefully cultivated partnerships with companies that offer superior construction and precision joinery that discerning homeowners expect, at prices they respect. Schedule an appointment to learn how we can help you achieve a kitchen or bath as extraordinary as your individual style.